Posted on: August 9, 2023, 03:17h. 
Last updated on: August 9, 2023, 03:17h.
Premier League (EPL) soccer team Chelsea has had some trouble finding a front-of-shirt sponsor, first losing Paramount to league objections, then a cryptocurrency company that folded and then online gambling platform Stake.com following fan backlash. It may have found a suitable alternative, with US-based sports tech data company Infinite Athlete reportedly ready to step in.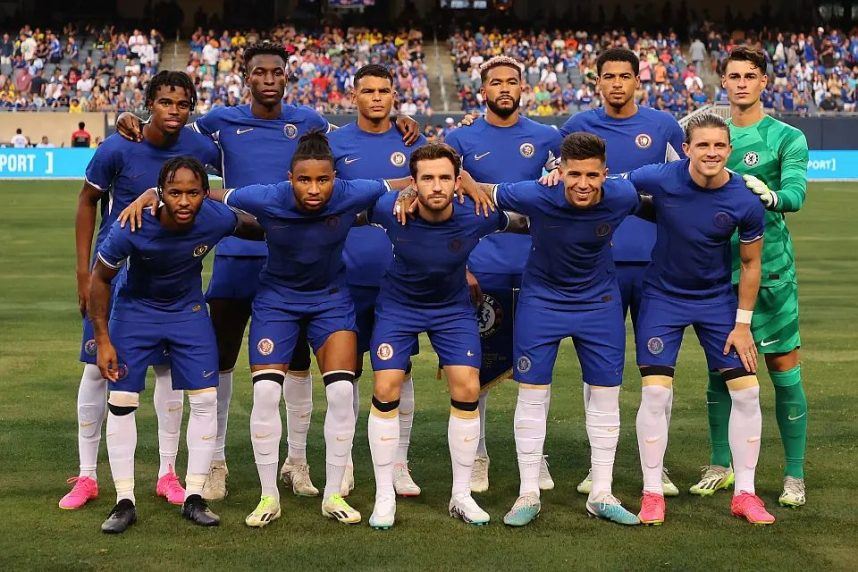 EPL objected to the Paramount deal because of concerns it might conflict with the league's broadcasting agreements. Insurance company Allianz was reportedly next on the list, but Chelsea decided to go in a new direction.
That's when it reportedly set its sights on an unidentified crypto company that couldn't rise to the market challenges and exited. Stake.com, which already has a strong presence in the EPL, seemed like a suitable option.
That was until fans spoke up. The league's teams have already made it clear that gambling sponsorships are no longer welcome, and Chelsea had to find someone else quickly ahead of the new season. Infinite Athlete will reportedly be added to the team's roster, provided the EPL agrees.
No Longer Naked
Because it wasn't able to find a sponsor, Chelsea played its preseason games without any brand emblazoned on the front of players' jerseys. With the regular season beginning this week, Infinite Athlete arrives just in time.
Infinite Athlete set to become the new Chelsea front-of-shirt sponsor.

No club confirmation yet as Chelsea still attempting to finalise everything ideally before #LFC. Club always optimistic of securing a sponsor by August.🔵 pic.twitter.com/JXbSvUfQuI

— Ben Jacobs (@JacobsBen) August 8, 2023
The company's mission, according to its website, is to "create a single technological foundation across all major sports, upon which innovative sports technology and media products can be built." It will reportedly pay £50 million (US$63.83 million) for the branding rights, £10 million (US$12.76 million more than Stake.com was going to pay.
This isn't the first partnership between Infinite Athlete and Chelsea. Last month, Chelsea announced that the club's app would include new technology, Match View X, that allows the user to better control the data available during a match.
That tech is a product of Tempus Ex Machina, which acquired biomechanics engineering firm Biocore this month. That acquisition led to the creation of Infinite Athlete. Biocore was headed by Jeff Crandall, the chair of the NFL's Engineering Committee. He now serves as a board member for Tempus Ex.
Chelsea inaugurates the new EPL season with a game against Liverpool this Sunday, but it's not clear if the sponsorship deal will be in place by then. DraftKings has Chelsea as +185 underdogs, with Liverpool getting +135.
Gambling Sponsorships Remain Attractive
Among the various options available to sports clubs, gambling-related sponsorships still rank among the highest and most lucrative. This is despite the UK's idea that a gambling ad ban would cause shrinkage.
New data from marketing firm Caytoo shows that the needle on deals between sports clubs and gambling companies hasn't moved much. In the past year, the number of gambling sponsors in the EPL has only dropped by one.
Over a third of Premier League teams still have a front of shirt gambling sponsor, only one fewer than a year ago," asserts Caytoo founder and Head of Research and Analysis Alex Burmaster. "This shows that the economic realities and fierce competition in football trump other considerations and the clubs will need to keep taking gambling's money until they're no longer legally allowed to."
However, there have been some changes. The "Industrials" segment has taken over as the leading category of front-of-shirt sponsors in English sports. This segment mostly applies to manufacturing companies.
It now accounts for 14.5% of all front-of-shirt sponsorships, beating out "Consumer Services" by almost 2%. Gambling falls into this category.
Industrials wins overall because it covers soccer, rugby and cricket. Looking at just the soccer segment, though, gambling still wins. It controls 15.4% of the sector.

#Sports #Tech #Data #Company #Infinite #Athlete #Sponsor #EPLs #Chelsea #Stake.com #Loss