Posted on: August 7, 2023, 03:33h. 
Last updated on: August 7, 2023, 03:33h.
Sports bettors know that you never bet with your emotions. Drake, the Canadian rapper and intrepid bettor known for missing big-money bets, never got the memo, and lost a considerable fortune on the Jake Paul vs. Nate Díaz boxing match this weekend.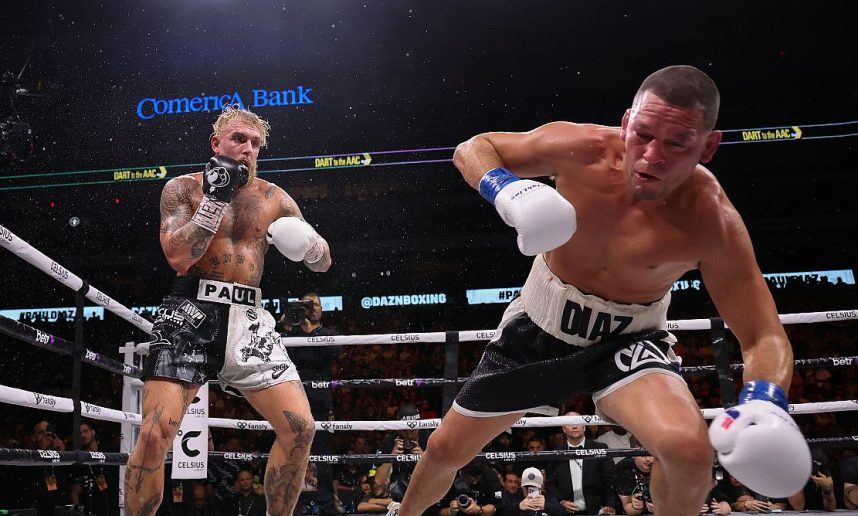 Drake supposedly took a loss of $250,000 thanks to the defeat of Díaz at the hands of Youtuber Jake Paul. Diaz was a formidable UFC fighter before deciding to try his skills as a pugilist.
Prior to the fight, and as he has done with many other sporting events, Drake published his Stake.com betting ticket, showing that he was ready to back Díaz. The ticket includes an admission that the "Way 2 Sexy" singer can "never bet against a Díaz brother," even if his opponent is a better choice.
Swing and a Miss
Before the Paul-Díaz fight, Paul reacted on Instagram to Drake's move and comments with a violent image where he appears holding the decapitated head of Díaz. In the post he also left a message for the rapper assuring that he "was losing his money" and ended by adding the PPV link to the fight. He wasn't wrong.
Despite the fact that Drake had previously expressed his admiration for the efforts of the Paul brothers in boxing, a victory by Díaz would have tripled his investment. Going into Saturday's match, Díaz was an underdog, with sportsbooks giving him around +340 against Paul's -440.
Drake has Nate Diaz beating Jake Paul tomorrow pic.twitter.com/lM1VwH3D3A

— Drake Fan Page (@DrakeDirect_) August 5, 2023
The fight between Díaz and Paul went the distance, leaving the outcome in the hands of the judges, and a key knockdown Paul delivered in the fifth round helped give him a boost. The judges scored the match of 10 rounds with cards of 97-92, 98-91 and 98-91 in his favor.
The hip-hop artist has experienced several six-figure financial losses betting on boxing and MMA. Two of these include Jorge Masvidal's match against Colby Covington and Justin Gaethje's loss in his championship fight against Charles Oliveira.
For the fight between Paul and Tommy Fury, he lost $400,000. He had backed the content creator's victory, who was undefeated until that bout, but things didn't go well. However, it's not just hand-to-hand combat Drake likes – he has a history of reportedly placing big-money wagers on the NFL and other sports.
Despite Paul's success in his boxing career, there have been controversies and accusations surrounding the authenticity of his fights. Bellator MMA fighter Dillon Danis has been particularly vocal about match-fixing claims.
Fights After Fights
The night of celebration and excitement that followed Paul's victory over Díaz was marred by a violent incident involving a group of spectators. Moments after the YouTuber-turned-boxer got a unanimous decision on the MMA legend, some fans decided to test their own fighting skills, sparking a series of chaotic brawls at the event venue.
The altercation left images of fists flying, shirts torn off and mob brawls involving about a dozen people. While some watched with laughter and amazement, others expressed disappointment at the situation that was unfolding. There was apparently no security presence observed at the scene, further aggravating the situation.
One of the most shocking moments was when one individual knocked another down and hit him on the back of the head against the marble floor. In addition, a two-on-one confrontation was witnessed near a stanchion, where a man attempted to kick two others involved in the fight.

#Drake #Bets #Big #Jake #Paul #Nate #Diaz #Fight #Misses